Data Horror Stories!
October 30 @ 6:30 pm

-

8:30 pm

GMT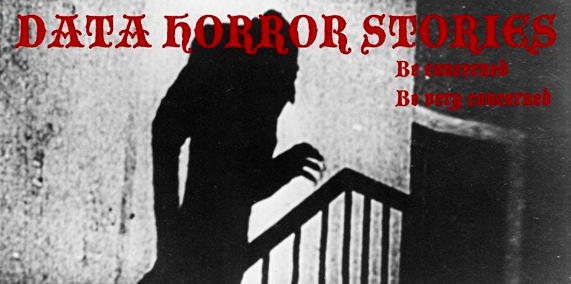 Toy Story 2's production famously lost a couple of months' work due to an accidental and erroneous command being executed.
In 1999, the Mars Orbiter Climate spacecraft crashed because engineers used computer software which produced output in non-SI units of pound-force seconds (lbf·s) instead of the SI units of newton-seconds
And virtually every day we hear of data that has been breached, lost or just collected badly.
Data Horror Stories is a night for sharing YOUR scary data-based tales among a group who share your pain.
We have a number of five-minute slots available, so if you have a story or cautionary tale that you'd like to share, drop an email to sam[at]opendatamanchester.org.uk.
There'll also be some quick-fire slots on the night.
Join us for a night of data-based cautionary tales and share your stories and experiences.
–––
Schedule
6.00 – Doors, refreshments, etc.
6.30 – Event starts.
8.30 – Close.
Code of conduct
Everyone is welcome at Open Data Manchester events. Please take a minute to read our code of conduct.
Refreshments
We will provide refreshments
Getting here
Heron House is on Lloyd Street opposite Manchester Town Hall.
Accessibility
There is one step from the pavement to the entrance to the building. The door staff will be able to bring out a ramp for you if required. The rest of the building is an accessible venue with a lift to all floors.
Contact Us
If for any reason you need to contact us on the day of the event, you can call us on 07598 429 493.
Any other questions?
Drop an email to sam[at]opendatamanchester[.]org[.]uk
---
Register to attend on Eventrbite here.