The Ethical Dilemma Café was back last month – and we were delighted to there in-person to be part of the event – at Feel Good Club in Manchester, part of MozFest 2022, on 26 and 27 April.
The experience was a collaboration between Mozilla, the BBC, the University of Lancaster, the University of Northumbria and Open Data Manchester.
And, over two days, people came to explore installations, take part in workshops and listen to talks that explored how the use of our personal data can affect how we are represented in the digital world. People who came:
received a free coffee – so long as they were willing to answer increasingly personal questions
joined an Anonymous-style online hack – that highlighted the environmental impact of data use on the planet
played a video game, wearing heaphones, where they had to navigate their way using only sound
had their photograph taken – only to have it 'fixed' by an anonymous AI
Open Data Manchester was there with our Happiness Index – where participants were asked to tell us how happy they were yesterday on a scale of 0-10 – and to place a corresponding lego brick on where they are happiest in the world.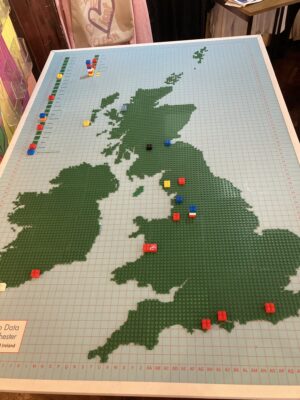 We also took down our Data Loom, where one of our team was weaving personal data into a piece of cloth. Those who came to speak to us were encouraged to work out what data we were recording (spoiler alert: it was people's shoe colour).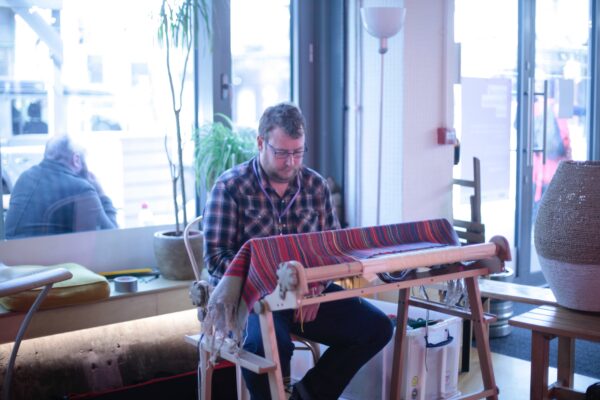 And we tried our a new speech-to-text programme, which listened into people, interpreted what they were saying and projected it onto the ceiling, as an example of a big intrusion into private conversations.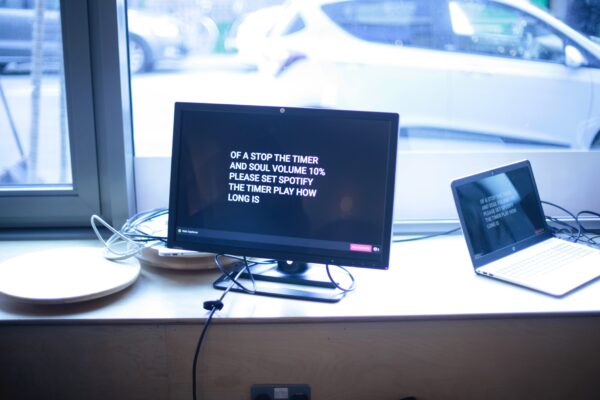 There were also a number of talks to head along to – the Information Commissioner's Office shared what they're doing to try to make the internet safer for children, while BBC R&D explained how they want to make 'fake news' and altered images a thing of the past. They were doing this through a kind of 'digital fingerprinting', where a code is bundled in with the image, so you can check its origin to see if it had been altered.
On the Tuesday evening, we hosted Open:Data:Night live for the first time since the COVID-19 pandemic began – and we were delighted to have such fantastic speakers sharing what they'd been up to since we last saw then in real life:
Lauren Coulman from social-impact consultancy Noisy Cricket, updated us on the work of the Responsible Tech Collective
Rachael Ainsworth from the Her+Data MCR meetup shared how they've adapted and grown as they had to move online, continuing to create spaces for women in data science to come together
A first-time ODN-er, Mozilla's 'rad' VP J Bob Alotta, talked about how the not-for-profit global internet brand is turning its focus onto trustworthy AI
Sophie Walker, CEO of waste-data company Dsposal (and on-staff at ODM), shared the two new open data standards we've been co-designing for the waste industry – more on where we're up to with that here
ODM CEO Julian Tait outlined some of the work we've been doing around developing data cooperatives and creating a Design Justice Node for Manchester
And we had a number of stand-up slots, where we heard about the ethics behind dating apps, more on recycling data, as well as the importance of co-creation
And, finally, here's a wonderful video roundup of the Ethical Dilemma Café, done by Craig and Daniel at Digital Skills Education.
So… would you trade your personal data for free coffee?