Open Data Manchester are supporting an exciting initiative, the Digital Solutions Programme, led by Professor Richard Kingston at the University of Manchester. This post will overview our process, what we have learnt so far and how you can get involved in the next stages of this impactful initiative.
The initiative runs over the next 4 years and is tasked with developing a Digital Solutions Hub (DSH) that will provide a series of integrated toolkits and services. This will facilitate innovative solutions to exploit environmental and other data (social, economic & health) to deliver economic, societal, and environmental benefits across the UK.
The Hub will act as a gateway to a broad set of inter-connected toolkits that facilitate improved access and better use of Natural Environment Research Council (NERC) data. The digital platform will have especially broad impacts on the environment, society and the economy by facilitating easier access and use of NERC data in business, government and society. To achieve these outcomes, the Digital Solutions Programme will be working collaboratively with our partners, to ensure that what we build meets the requirements of this diverse community of users.
Open Data Manchester will use its experience to deliver a programme of user research workshops as well as an appraisal of data infrastructure and assets held by the NERC data centres and those of potential Digital Solutions Hub users. This will provide the project team with valuable user needs and insights to guide the development of the Hub.
The 'discovery phase'
According to the Government Digital Service Manual:
"Before you commit to building a service, you need to understand the problem that needs to be solved."
That's where the 'discovery phase' comes in – it's where you learn about potential users, what their needs are and what they want to achieve.
There were many things we already had evidence for such as the fact that most current NERC users are academics and that analytical tools are hard to use for most users. However, there are certain assumptions and unknowns about which we wanted to learn more. Examples of our assumptions include: 'different users will have different needs' and 'there are a lot of users who don't know about many of the available tools'. What users might want to do with NERC data and what the skill level of different users is are two of our unknowns.
Over the past few weeks, we have been facilitating Discovery workshops with a range of partners in local and national government, the private sector, technology sector, infrastructure providers, health sector, transportation, urban and regional planning, and environmental science. These workshops, and the ones we have coming up in September, help us to gauge stakeholders' current levels of knowledge about NERC data. They also allow us to begin understanding the stakeholdersrequirements when it comes to accessing and using data to inform the decisions they make.
What we have learnt so far
We've had the privilege of interacting with a plethora of stakeholders across different sectors who use data for a range of decision-making challenges. Perhaps it's examining associations between environmental exposures and different health outcomes, for housing development and planning or understanding risks and hazards in certain locations. Participants have shared illuminating insights with us, regarding how they access data, how they use data to inform their decisions and what their needs are when it comes to the DSH.
It's very early days in our research, but we wanted to share some of our initial findings and let you know how you can get involved in the ongoing project.
The project is ambitious and exciting, with stakeholders' who are keen to learn more and be part of the journey.

We heard time and time again that there is data out there, but that it's somewhat haphazard and not easy to access. There is a lack of understanding about the potential use of both NERC datasets and datasets in general. Although the concept of a Digital Solutions Hub, that could serve various data needs all in one go, was inspiring and exciting.
A one-stop shop is high on the list of requirements.

We identified a need for a central store of data, "a single version of the truth" that links data from various places so that people can have all their data requirements met in a time-efficient manner. Data would also be more organised and easier to access as a result. These needs were also derived from people wanting data standardisation, and to avoid 'patchy' data whereby some datasets are more exposed than others.
People want datasets to be findable, accessible and usable.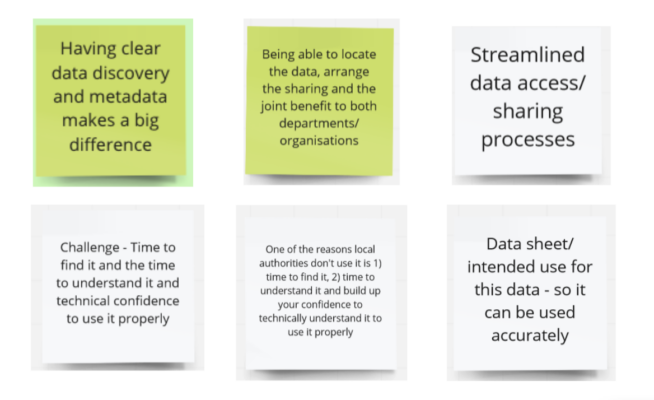 Stakeholders explained how arduous accessing data can be for them – from not being able to find the right data, to struggling to access and use it. Some of the challenges were around knowing what data existed and what it should be used for, some around organising data sharing agreements and some around lacking the necessary confidence or skills to use it.  The DSH must help  in overcoming these issues, otherwise it will not meaningfully build on the status quo.
An open invitation
We took an open and inclusive approach to the workshops, wanting to gain as broad a representation as possible of potential users and stakeholders. We also asked the question, 'Who's missing from the room? Who else should we be speaking to?'
If you're reading this and you are from one of the organisations below, please do get involved. Alternatively, if you have contacts in these organisations please do share this with them. If there are other people and organisations you think we should be talking to then please feel free to share this with them or put us in touch.
We are particularly keen to speak to organisations from Northern Ireland, Scotland, and Wales.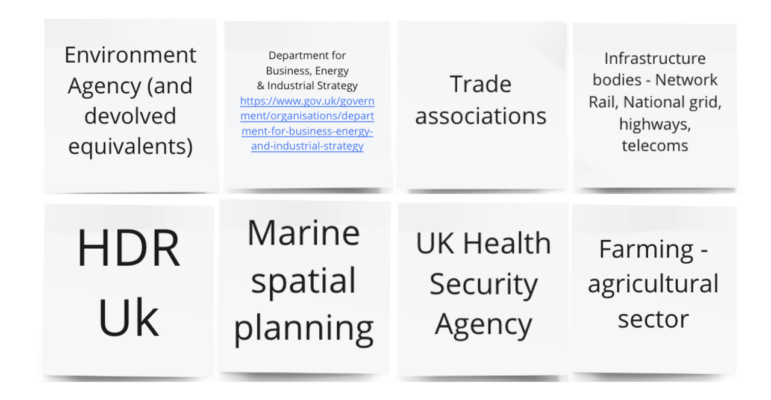 These organisations are just a few of those that participants of our workshops have helped us to identify so far. You can view full list here. Your support in connecting us to any of these stakeholders is greatly appreciated.
What's next and how you can get involved
In just two workshops, we have begun to test various assumptions and obtained valuable insights into what people need from the DSH. We are grateful for the enthusiastic participation so far and are looking forward to involving more people throughout the journey.
We have two more online workshops taking place on the 20th and 23rd September 2022 which you can sign up to attend via Eventbrite here. These are for people who have not yet taken part in the two workshops we held in July.
The second tranche of workshops will be taking place in October and November 2022. These will be a mixture of online and offline workshops, with the offline workshops taking place across each of the four nations of the UK. We will be looking to dig into the details of what users need as well as providing more detailed information on the wider DSH project, its expected outcomes, and other opportunities for collaboration.
More information will be released on these shortly.
If you have any questions or would like to be involved further, please contact matt@opendatamanchester.org.uk