As part of the 'Right to the Streets' project, Open Data Manchester are conducting walkabout workshops in the Old Trafford, Gorse Hill and Firswood area.
Last month we had our first walkabout sessions at Gorse Hill Studios. It was lovely to see some of you in attendance, especially since we were greeted with the first snowfall of the season. On arrival we introduced ourselves and looked at maps of Stretford from 1915 and 1938. Comparing the differences between these years and even now was a nice ice breaker.
To kick off the workshop element we got out the all-familiar post it notes and asked participants to answer these three questions in relation to when we are walking in our everyday lives:
What makes you feel safe/unsafe?
What makes you feel like you can be active in your area?
What makes you feel a sense of belonging in your area?
It was interesting to see recurring themes come up such as street lighting or having public spaces like parks nearby. This sparked discussion about being active and what this means to us. We spoke about community and how this has changed throughout the years.
The next part of the workshop involved mapping notable routes residents take, including those taken rarely, often and most recently. Using physical printouts of the areas, participants noted down routes, points of interest, and other thoughts or feelings onto the map.
We then chose to do a walk loosely based on one of these routes.  One resident was very knowledgeable of the area's present and history so the walk was pleasant, relaxed and interesting.  During the walk, we began reflecting upon how we felt whilst walking together, what diversions we might make when alone, and our general experiences when walking.
For the last part of the workshop we returned to Gorse Hill Studios and revisited how we felt during the walk. Some of the discussion included whether the route would be taken at different times of the day or not. For example, while the walk through Gorse Hill Park is pleasant it would be avoided at night due to lack of lighting. We referred back to the post-it activity at the beginning to see if we still felt the same about what we shared and if there were any additions or changes to be made to the map below.
Leaving the workshop, there was a sense of community and validation in our experiences. We were not all the same and yet there were commonalities in our experiences and feelings whilst walking as women and girls.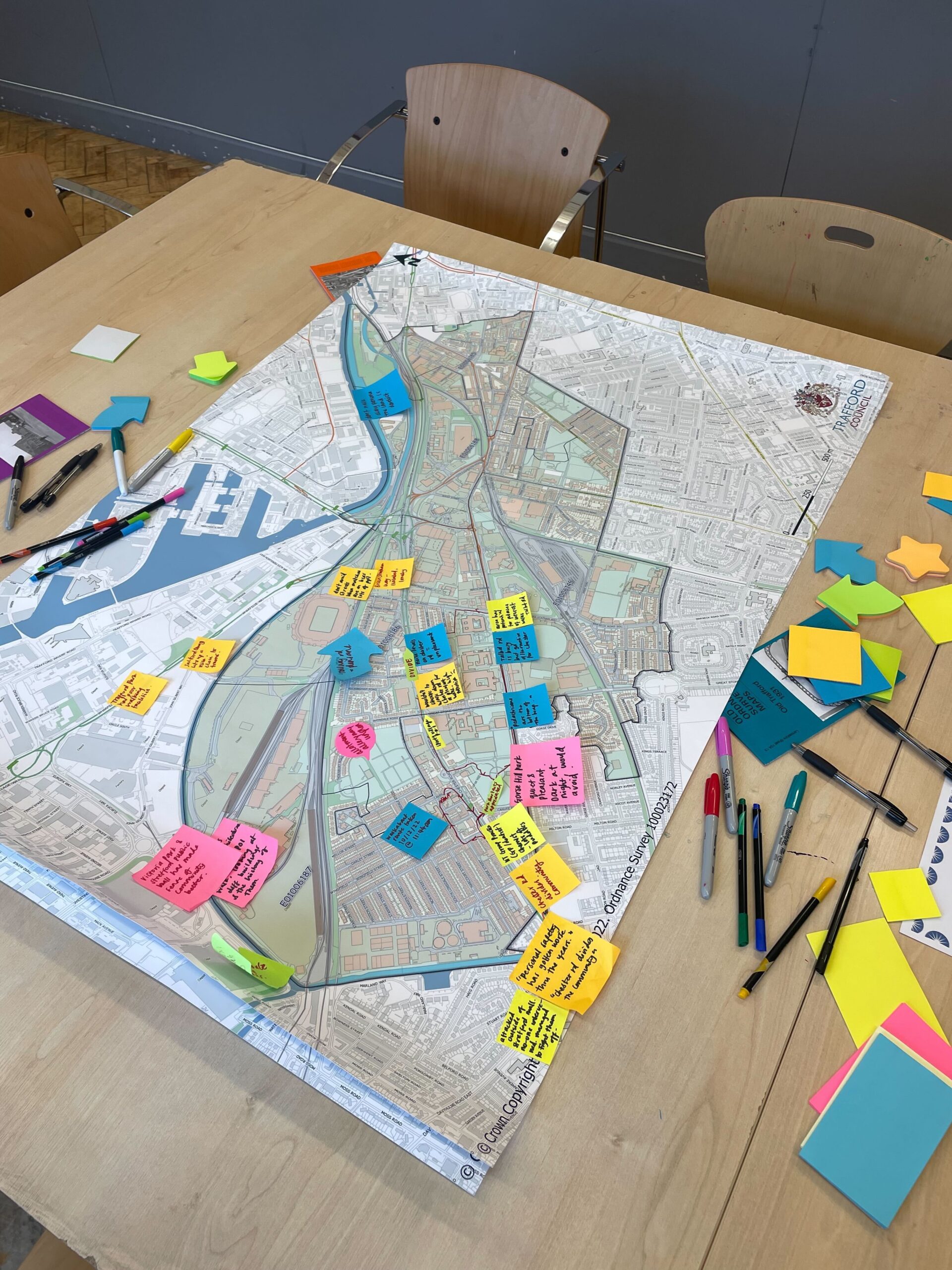 We will be generating more maps like the one above to highlight the lived walking experiences of women and girls in the Gorse Hill, Old Trafford and Firswood area throughout early 2023.
Upcoming walkabout dates are below. You can sign up at the end of this survey or you can turn up on the day. Please feel free to email toyebat@opendatamanchester.org.uk for any more information.
Weds 25th Jan, Trafford College, Stretford Campus, 11am-2pm
Sat 28th Jan, St John's Centre, 2pm-5pm
Tues 31st Jan, Old Trafford Wellbeing Centre, (BluSci), 12-3pm
Sun 5th Feb, St Johns Centre, 2pm-5pm
Wed 8th Feb, Old Trafford Wellbeing Centre (Blu Sci), 10am-1pm
Thurs 14th Feb, Old Trafford Wellbeing Centre (BluSci), 12-3pm
Sat 18th Feb, St Johns Centre, 2pm-5pm
Weds 22nd Feb, Trafford College, Stretford Campus, 11am-2pm
Weds 22nd March, Trafford College, Stretford Campus, 11am-2pm