As part of 
Our Streets Chorlton
, Open Data Manchester creates monthly bulletins that showcase some of the data being collected for the project, including the work done directly by community volunteers.
Some highlights from the June bulletin include:
The total number of cars recorded on Darley Avenue in June was 28,048, which is down 56% from last month – that's a huge drop, but we identified the reason for this in our previous bulletin here
The average morning peak hour for traffic on Darley Avenue was 08:00-09:00 – the average afternoon peak hour was 16:00-17:00.
Pollution levels throughout June were recorded as being low both at Darley Avenue and at the junction of Wilbraham Road and Barlow Moor Road – although the Darley Avenue sensor registered two days as having moderate pollution levels.
Digging the data on our school street closure
On Tuesday 15 and Wednesday 16 June 2021, the street outside of Barlow Hall Primary School was closed to traffic from 8am to 9am and 3pm to 4pm. Using data from one of our Telraam traffic counters on Darley Avenue (which you can find out more about in this blog
here
), we created a baseline for June by taking an average of the traffic counted on Tuesdays and Wednesdays throughout the month.
The visualisation below shows this data, including two expected rush hour peaks, between 8am and 9am, and 2pm and 5pm, which are likely a combination of the school run and residents travelling to and from work.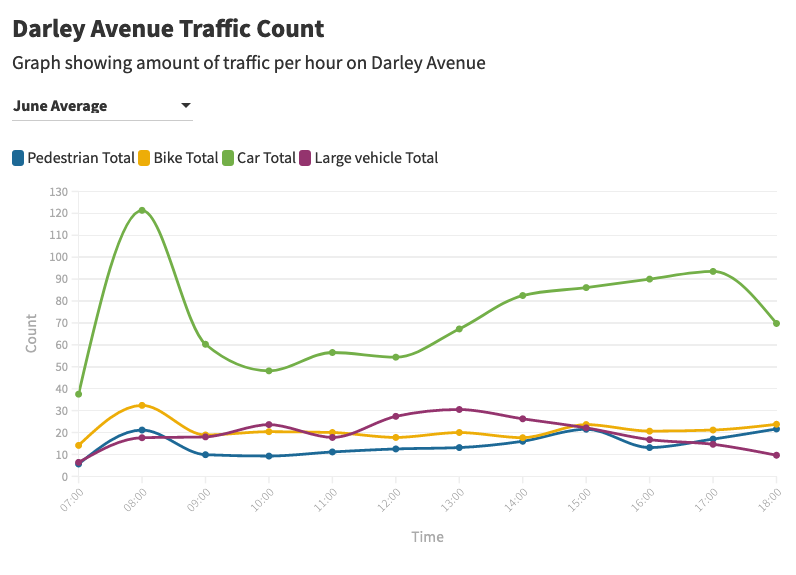 Below is a graph showing the average count for the street closure days – it still shows a peak in the number of cars at 8am, likely due to residents travelling to work, but we also see a noticeable increase in the number of bicycles and pedestrians. Also, the evening peak for cars doesn't happen until after the school closure, in the evening at 5pm, and again we see an increase in bikes and pedestrians.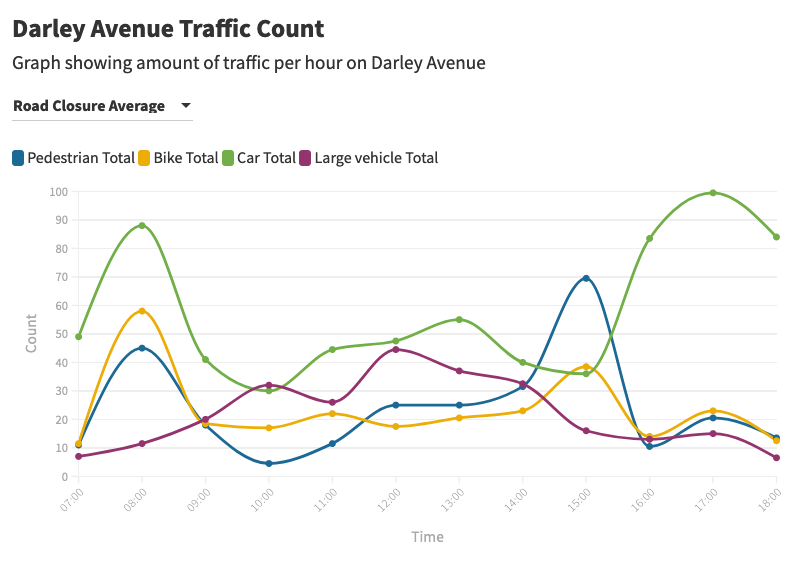 Despite the road closure, we do still see a relatively high number of cars during this time. This is likely due to the traffic counter picking up residents passing by from both Darley Avenue and Godbert Avenue, which is a cul-de-sac located in the middle of the street closure area.
You can download and explore the full bulletin here.
For the latest on how to get involved with Our Streets Chorlton, including our monthly data chats and Data Champions training, visit ourstreetschorlton.co.uk.